Venezuelan Legislature Supports Belligerent Status for Colombian Rebels
The Venezuelan National Assembly voted yesterday to support President Chavez's call for Colombia to recognize the "belligerent status" of the Revolutionary Armed Forces of Colombia (FARC) and the National Liberation Army (ELN).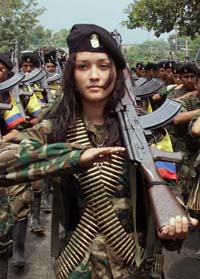 Editor's note: This is a slightly corrected version of the article that appeared earlier today.
Caracas, January 18, 2008 (venezuelanalysis.com) – The Venezuelan National Assembly voted yesterday to support President Chavez's call for
Colombia to recognize the "belligerent status" of the Revolutionary Armed Forces of Colombia
(FARC) and the National Liberation Army (ELN). It also rejected the "unilateral lists imposed by the government of the United States," which classifies these groups as "terrorist organizations."
Chavez argues recognition of the guerrillas as a "belligerent force" would open the path to peace and require the guerrillas to abide by the Geneva Protocols by desisting from using such methods as hostage taking and terrorist acts against civilians.
Historically, rebel groups seeking to overthrow governments or to secede from a state have sought "belligerent status"-as it accords a legal standing similar to that of a government, including diplomatic recognition and activates the law of international armed conflict for both sides.
According to international law experts, Ewen Allison and Robert K. Goldman, in the book "Crimes of War," a rebel group gained belligerent status based on the 1949 Geneva Conventions "when all of the following had occurred: it controlled territory in the State against which it was rebelling; it declared independence, if its goal was secession; it had well-organized armed forces; it began hostilities against the government; and, importantly, the government recognized it as a belligerent."
International Red Cross spokesperson in Colombia, Yves Heller on Wednesday however, classified the situation in Colombia as an "internal armed conflict", this effectively side steps the issue of recognition but requires both parties – the government and the guerrillas – to abide by a distinct body of humanitarian law crystallized in Common Article 3 of the Geneva Conventions of 1949 and Additional Protocol II in 1977.
While belligerent status would make the guerillas accountable to international human rights provisions in the Geneva Protocols, it also has political implications that the Colombian government does not want to cede such as recognition of FARC and ELN control over huge swathes of Colombian territory.
The Colombian government also does not recognize that there is an "internal armed conflict" in the country, rather, since 2001 it has classified these groups as a "terrorist organizations."
Colombia has flatly rejected Venezuela's call to recognize the guerillas and tensions between the two governments heightened this week after Colombian Foreign Minister Fernando Araujo and Peace Commissioner Luis Carlos Restrepo, said it constituted an interference in Colombia's internal affairs.
In Nicaragua on Wednesday Chavez then accused the Colombian government of being an "instrument of U.S imperialism" and against "integration and peace in Latin America."
He also alleged he had evidence to show that "North American and Colombian officials are conspiring against Venezuela, to kill me, and generate an armed conflict between the two countries."
U.S. Joint Chief of Staff, Admiral Michael Mullen denied the claims in a joint press conference in Bogota with Colombia's Defense Minister Juan Manuel Santos and Armed Forces Chief General Freddy Padilla on Thursday and said that Venezuela was engaged in a "destabilizing arms build up."
However, when asked if Venezuela was concretely supporting the FARC, Mullen conceded "I am not aware of any specific support Mr Chavez has provided the FARC."
Defense Minister Santos said Chavez should "show the evidence [for assassination plans], and if it is true, we will take appropriate action."
Colombian Foreign Minister, Araujo said Chavez "confuses cooperation with interference, as he confused mediation with favoritism," and that he "stop attacking our country."
In response Venezuelan Foreign Minister Nicholas Maduro said the government of Colombian President Alvaro Uribe "is not committed to peace" rather it is "obsessed" with war.
"In place of putting all their determination into constructing a viable and durable political solution to the armed conflict, the Colombian government looks for any pretext to justify their militarist logic," he added.
Despite the tensions, an open letter by numerous Colombian peace and human rights groups today still holds out hope that Chavez, who was instrumental in securing the release of FARC hostages Clara Rojas and Consuelo Gonzalez de Perdomo last week, can play a future a role in negotiating the release of further hostages.
However, Colombian Vice President Francisco Santos said today any mediating role by Chavez is "totally finished."
Relations between Colombia and Venezuela deteriorated in November last year when Uribe abruptly terminated the mediating role of Chavez and Colombian Senator Piedad Cordoba in a humanitarian exchange of 45 hostages held by the FARC for 500 guerrillas imprisoned in Colombian jails, claiming Chavez had broken diplomatic protocols. Venezuela then recalled its ambassador to Colombia, Pavel Rondón in response.
The Colombian government has so far not decided to recall its ambassador in Caracas, Luis Fernando Marin, however as yet there is no indication that Rondón will return to his post in Bogota.
Colombian opposition party Polo Democrático ratified its support for President Uribe today in the face of Chavez's "aggressions," but called for Cuban President Fidel Castro to mediate for a return to normal diplomatic relations between the two countries.