As we approach the exciting presidential elections in Venezuela to be held on October 7, 2012 it's important to take a brief look at the government's achievements over the last 14 years and some of the projects currently underway. In this report and photo essay, we will turn our focus to the massive housing mission, La Gran Misión Vivienda Venezuela and provide a brief summary of Venezuela's recent history under the socialist government.
Summary of a 14 year process

Results of colonization: Before President Chávez was first elected in 1998, Venezuela's petroleum went to big transnational oil companies like Exxon, Mobil, Shell, etc. who paid 0 to 1% in royalties to Venezuela. Even those royalties went to the US-backed oligarchs (Venezuelans) who ran the government under the 4th Republic. None of the money went to education, housing, health care and other social services and the only investment in infrastructure served the foreign corporations and wealthy Venezuelans. As a result, centuries of colonization left about 80% of Venezuelans illiterate, living in squalor and virtual slaves to the transnationals, producing everything from petroleum to extracted minerals, fruits, sugar and rum to be exported to the US and Europe. There, they were sold cheaply or processed for importing back into Venezuela at premium prices. (For more on this, buy Eduardo Galeano's very readable book, "The Open Veins of Latin America")
The People Rebel: In 1989, Venezuela's economic crisis under the capitalist regime brought about the Caracazo when the impoverished Venezuelans revolted against the Carlos Andrés Peréz regime. Government military and police struck back, killing thousands (the actual number is unknown). In 1992, Hugo Chávez Frias, a young Lieutenant Colonel led army units in a coup against the government and it failed. In the same year, another attempted coup was defeated. Chávez was arrested and imprisoned until 1994 when they released him because of the enormous support he received from the Venezuelan people. Ever since, I am sure the US backed government and the CIA have regretted that they didn't execute him.
A coup and economic attack: In 1998 Chávez ran for election as president and won in a landslide victory. In 1999 the Venezuelan constitution was rewritten and Chávez won re-election again. In April, 2002 Washington orchestrated a coup against the Chávez administration, kidnapping Chávez with the people striking back against the US puppets, bringing him back to his elected position within 48 hours. From December 2002 to February 2003, Washington organized an economic attack through old managers of Venezuela's petroleum industry (PDVSA) to cripple the nation's economy and force President Chávez from office. Refinery computers were destroyed, passcodes were stolen and valves were sabotaged. Venezuela's economy shrunk by 9% in 2003 as a result of the shutdown and unemployment jumped from 15% to 22%, as hundreds of thousands of Venezuelans lost their jobs. The country lost an estimated 14 billion dollars.
The government fired 18,000 of those responsible and many thought the wells, rigs, refineries, computers, electronics and pipelines in which the petroleum had solidified could not be brought back into operation without those US-backed managers. But surprising all those responsible for the attack, ordinary workers had learned the systems well and brought the industry back into full operation.
Regaining Control: Since then, Chávez and his government regained control of the country by re-nationalizing PDVSA, the banks, stock exchange, central bank and major corporations including major industries like steel, aluminum, mining and many others. President Chávez renegotiated deals with the big transnational oil companies and gained controlling interest in all of them except for Exxon who refused to negotiate, sued Venezuela in foreign courts and lost.
The money from PDVSA goes into a long list of social programs including Mision Mercal (basic foods with price controls); free education from preschool through university; a new national train system; Venezuela's first satellite launched in October, 2008 and a second one to be launched this year; community councils (power from below); Land Reform, taking unused land held by rich US and European land owners for Mision Agro-Venezuela where food is now produced rather than favorite resource exports for the US and Europe, with the aim of "Food Sovereignty" making the country independent of foreign imports; and many other successful social programs including Misión Vivienda.
"Buying Votes"

The opposition and imperialist media in the US, Canada and Europe accuse Chávez of "buying votes" with these social programs. If giving people what already belongs to them is "buying votes" - then Chávez is indeed guilty. Everything the capitalists have trained people to believe over the decades about socialism making people lazy without motivation to work, etc, etc. has been turned on its head. Venezuelans rise early in the morning and work harder than ever in this socialist society.
In the new presidential election next month, Oct. 7, Chávez is sure to win, probably with about 65% to 70% of the vote according to polls. Misión Vivienda is just another step in the empowerment of people who were illiterate, undernourished, living in squalor and "didn't have a pot to piss in" before Chávez. The opposition also complains that Chávez hasn't done more. We say that what he's accomplished in 14 years is absolutely astounding! You don't turn around 500 years of colonization, oppression and the poisoning of an indigenous culture in a decade. It will take generations more before the tree of socialism in Venezuela reaches full fruition. For now, it's an amazing thing to see humble people truly empowered and controlling their own destiny for the first time since the Spanish Conquistadors arrived in South America, here on the northern shores of Venezuela. We see their dignity and empowerment further advanced through Misión Vivienda.
The people of San Joaquin and Misión Vivienda
The photos shown in this essay were taken in San Joaquin, a poor community near Valencia. They are just one small example of the hundreds of thousands of new homes being built across the country for the poor, living in squalid ranchos. The first half of this photo essay shows ranchos in which some of the people in San Joaquin still live and the second half are of the new houses being built for these same people by the government in Misión Vivienda. Those still living in their ranchos are palpably excited about moving into their new homes. So far, about 56 new homes are now completed and occupied in this small community and more are being constructed until the entire community has been served. They are one small part of the nationwide campaign to build decent housing for people living in very poor conditions. I have been inside new Misión Vivienda houses and can attest to their quality, structurally sound with modern kitchens and bathrooms and lovely living quarters. People living in the ranchos can buy a new house at a small fraction of the actual cost and that on a long term, very low interest loan from Venezuela's nationalized banking system. The rest of the actual cost of building the house is paid for by PDVSA, Venezuela's nationalized oil company.
Not "government handouts" : These new homes are not "government handouts" as the US and European capitalist media would have you believe. The people of San Joaquin are hard working people, in factories (some worker-owned), agriculture, construction, public schools and universities, offices and some with budding business enterprises.
Story of a burned out rancho
Last Thursday night, I received word that my good friend Hamilton's wood-constructed rancho burned to the ground in San Jaoquin on the same day. Hamiliton lived there with his two little boys ages 4 and 6. He managed to get them out of the fire and thankfully, none of the three were injured. Hamilton makes his living by driving taxi and his old Toyota sedan, parked up against the house was also destroyed. They lost everything, clothes, toys, school uniforms, furniture, kitchen equipment, school books, car and house tools, keepsakes - everything. When I arrived on Saturday, the ashes had cooled and the boys sifted through the remains, excited to find any piece of metal that survived the blaze, smiling and holding it up as a prize.
On Saturday, three of Hamilton's uncles made the 2 hour drive from Caracas to visit and support him and I joined them and his mother, Carmen in San Joaquin. When I arrived on Saturday morning, a group of about 30 neighbors and friends came together to build Hamilton and his sons a simple structure out of plywood, just to get the little family under a roof. Meanwhile they've been living with the next door neighbors in their rancho. An additional room or two and a toilet will be added to his new rancho later.
On Saturday, while the men were busy building Hamilton's new rancho, the neighbor women cut up a huge pile of verduras - pappas, ocumo, apio and yuka for soup with maiz, repollo, herbs and local spices which they cooked with beef in a big pot on an open wood fire outside a neighbor's rancho. Spirits were high and smiles abundant with people coming to the aid of a friend, neighbor and loved one. We all returned on the following day, Sunday, a day of rest when the people in this community do not work. Another great pot of soup was prepared and instead of working on Hamilton's new rancho, it was a day to talk about the fire, progress with the new construction, family matters and most of all ... politics.
These people are all Chavistas and there were many conversations about the upcoming elections on October 7. Non-stop laughter flowed over the crowd throughout the day and nobody was more pleased than Hamilton with this outpouring of love, good cheer and solid community support. The contagion of pervasive laughter quickly swept over everyone present, even bringing some of the more distant neighbors to the fiesta.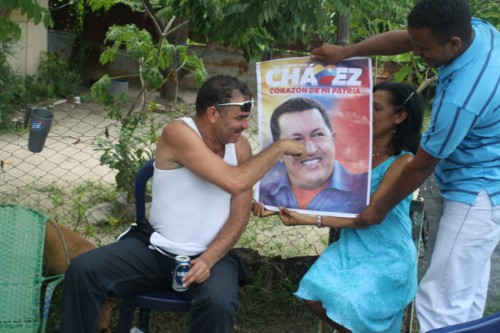 "Mahunché" plays his role, taking a poke at President Chávez with his finger, confidentally declaring that Capriles Radonski is sure to win on October 7.
In the many political discussions, some of them serious and others a source of gaety, the folks had no opposition member to pick on. So José, one of Hamilton's uncles adopted the role of a "mahunché" (pronounced, ma-hoonch'-ay) - a name Chavistas use to describe the opposition leaders in Venezuela. Generally, the term refers to a rather hapless fellow who is pitied and tolerated, somewhat short on brain cells, with nothing worthwhile to contribute and incapable of new ideas. So throughout the day, José  "the mahunché" never got out of character, argued with everyone, and everyone with him, in this little outdoor theatre. They finally told the mahunchéthat his hero and presidential candidate, Capriles Radonski, would be soon running off to live in Miami, maybe even before October 7. At end of day, José left with his brothers for Caracas, still in character, cheering for Capriles Radonski out the car window to the jeers of everyone saying goodbye to the trio of uncles.
In western society where myths of "liberty" are preached and the "individualist" is revered above all others, the humble but dignified people in San Joaquin redefine the real meaning of "community" for us all.
 Hamilton and his neighbors are financially poor and currently live under  very difficult conditions but their lives are rich in resourcefulness, loyalty and love for one another and a deep respect for family and community. All currently live in ranchos like those shown in the first set of these photos and anxiously await their opportunities to buy new Misión Vivienda houses like the ones in the second part of the photos.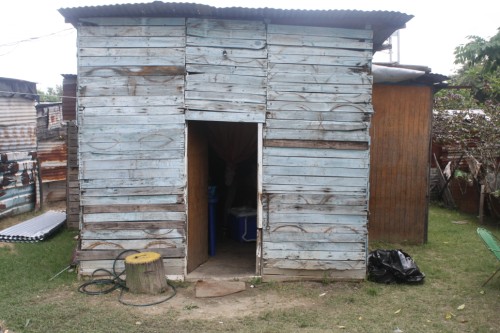 A neighbor's home in front of Hamilton's
burned out rancho. Photo credit: Axis of Logic.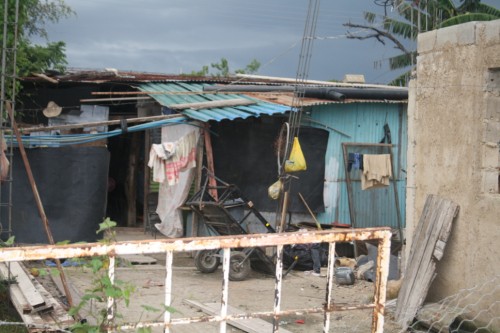 A typical rancho built out of corrugated sheet metal.
Photo credit: Axis of Logic.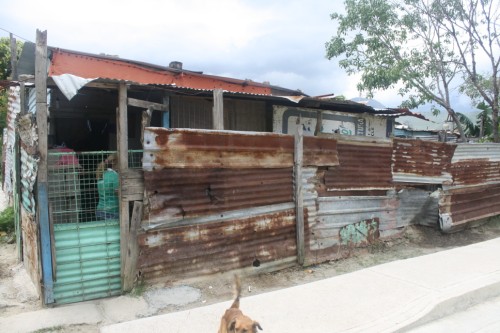 Many of the ranchos in San Joaquin have corrugated metal walls,
separating the street from their front yard. Photo credit: Axis of Logic.
Elizabet Liendro who lives with her family in a rancho in San Joaquin,
holding her 2 month old nephew, Alejandro, . Photo credit: Axis of Logic.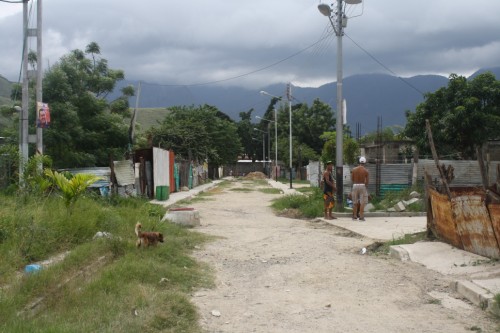 One of San Joaquin's streets, lined with ranchos.
Photo credit: Axis of Logic.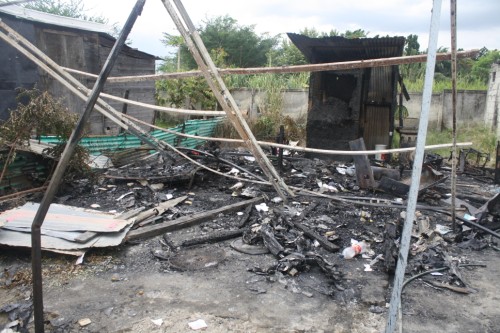 Hamilton's rancho burned down last Thursday.
Photo credit: Axis of Logic.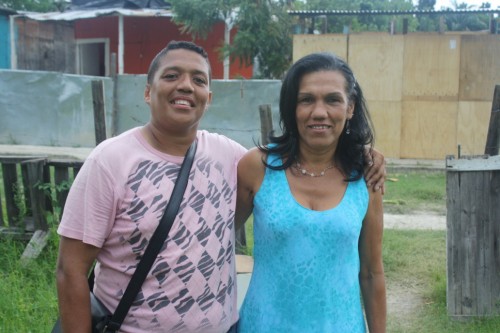 Hamilton with his mother who has visited him by bus
from 90 minutes away since the fire to support him.
Photo credit: Axis of Logic.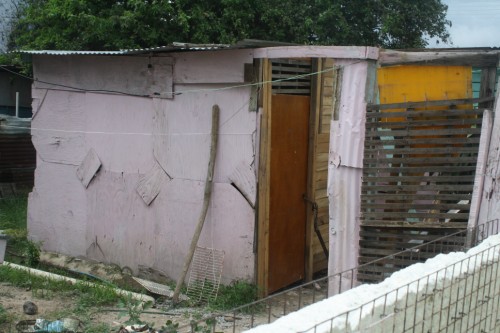 A typical home in San Joaquin made of wood, fibre-board
and sheet metal. Photo credit: Axis of Logic.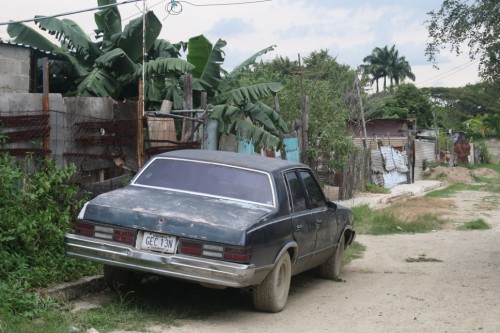 Most people living in the San Joaquin ranchos don't have cars but when they do, they are apt to be older models like this one. Photo credit: Axis of Logic.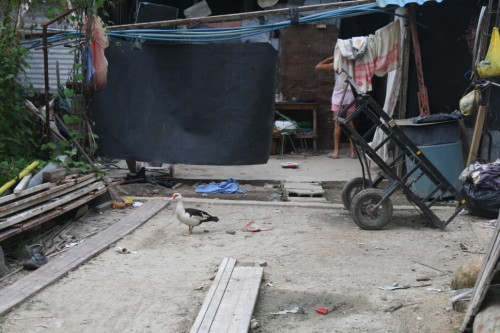 It's common to see chickens and ducks in the yards that front the San Joaquin ranchos. They provide a source of meat and eggs for the table. Photo credit: Axis of Logic.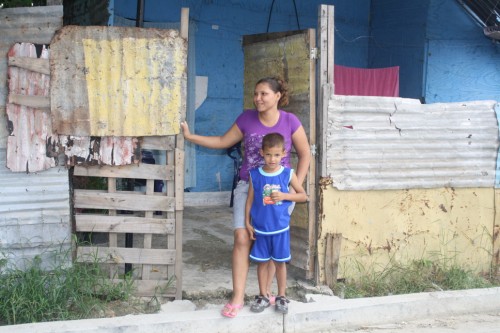 This neighbor woman permitted me to take a photo of her and her son
in front of their rancho in San Joaquin. Photo credit: Axis of Logic.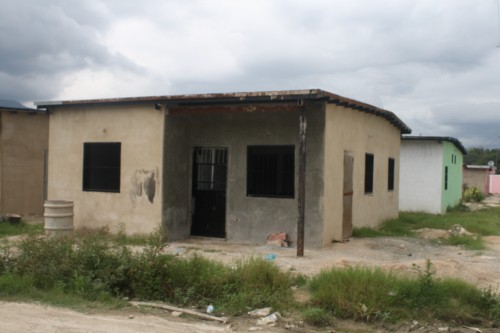 A large new Misión Vivienda house, near completion.
Photo credit: Axis of Logic.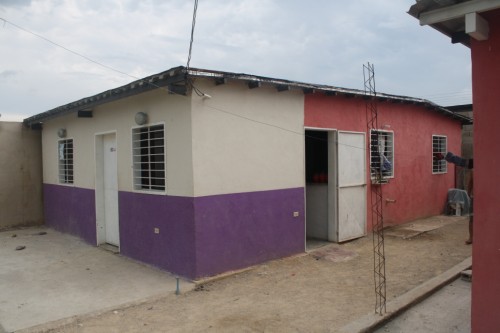 New owners of houses can choose the color schemes.
Photo credit: Axis of Logic.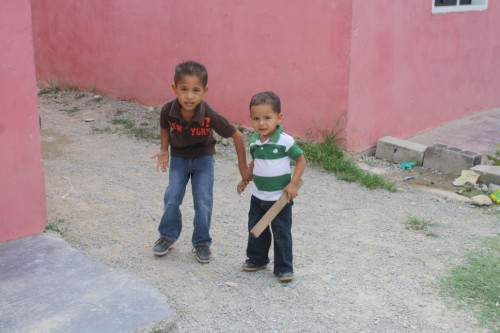 These two little boys are playing outside their new house
built by the government. Photo credit: Axis of Logic.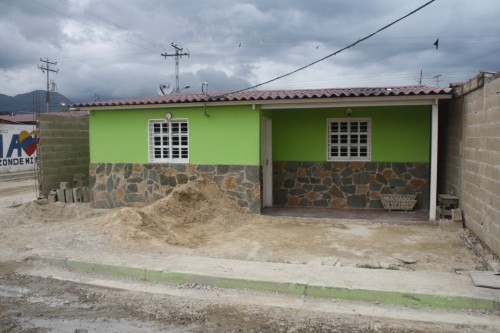 A Misión Vivienda house recently completed and
waiting its new family. Photo credit: Axis of Logic.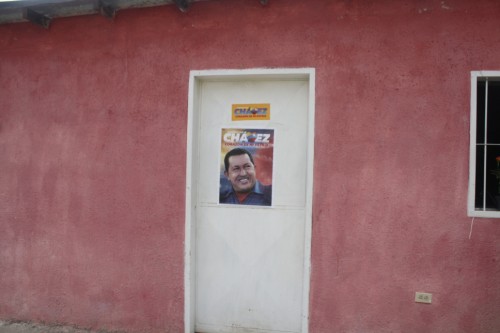 Many new owners of Misión Vivienda houses place President
Chavez' photo on their doors. Photo credit: Axis of Logic.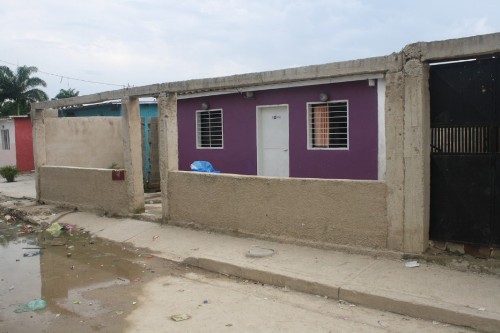 Construction of this Misión Vivienda house is near completion.
Photo credit: Axis of Logic.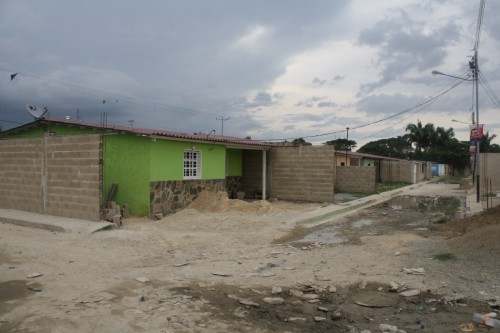 A row of Misión Vivienda houses under construction, one block from Hamilton's burned down rancho. Photo credit: Axis of Logic.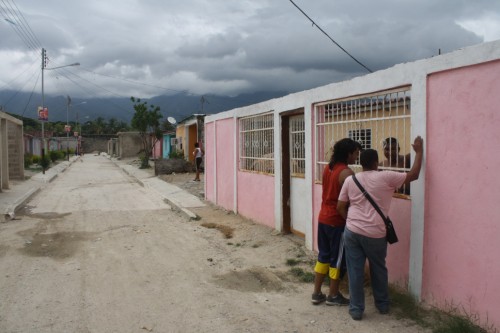 Hamilton and his cousin talk with a neighbor about his new home,
built by the government. Photo credit: Axis of Logic.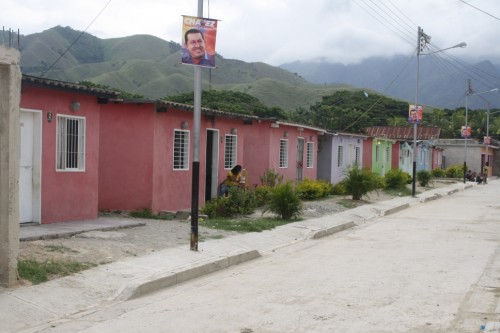 A Misión Vivienda street lined with new houses and families within,
funded by PDVSA and built by the government of Venezuela.
Photo credit: Axis of Logic.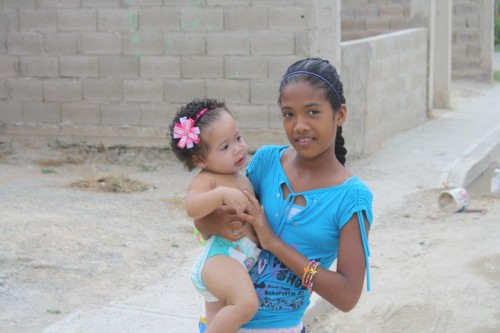 A young girl holding her sister in front the house being constructed
for her family by the Bolivarian Government. Photo credit: Axis of Logic.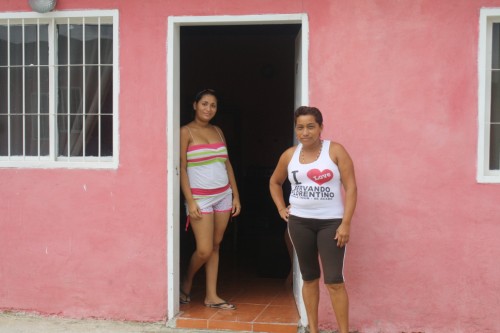 A mother and her daughter permitted me to take their photo in front of their new house. New owners are free to decide the color some other details for their house. Photo credit: Axis of Logic.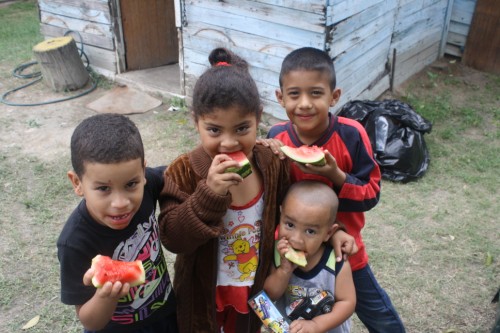 These four children are enjoying their patilla! They live in ranchos and
their parents await construction of their new houses in Misión Vivienda.
Photo credit: Axis of Logic.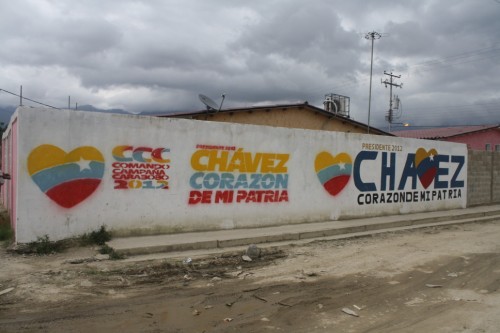 The banner introducing the new Misión Vivienda houses
in San Joaquin. Photo credit: Axis of Logic.
Note: When you buy Citgo heating oil or gasoline for your car in the U.S., now you know where some of the money will go.
And now Venezuela moves on to another exciting peoples' political victory on October 7, 2012!
Viva Chávez y Viva la Revolucion!