Venezuela Formalizes its Oil-Backed Crypto Currency, Petro
The Petro coin will "neutralize" the threat of black markets and money mafias across the country, officials say.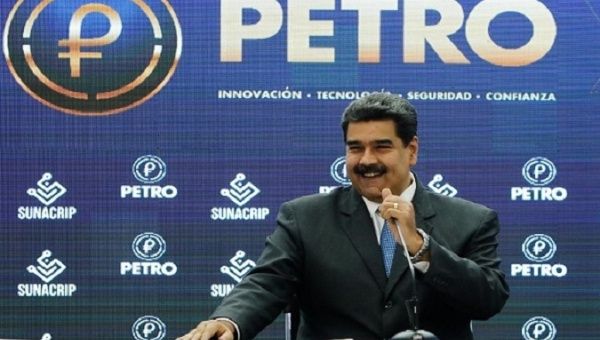 Venezuela's cryptocurrency, the Petro, arrives to global markets Monday, backed by the nation's vast oil reserves, the digital currency is one of the most innovative parts of the Economic Recovery, Growth, and Prosperity Program.
"The Petro, unlike other digital currencies, doesn't need to be mined because it already has a value, it is shielded with Venezuelan oil and mining wealth," said President Nicolas Maduro during a televised address, referring to the country's gold, diamond, iron, and aluminum.
According to the Bolivarian head of state, the Petro is already present in the world's six topmost international exchange houses and will now be accepted at a national level.
"All Venezuelans will have access to the Petro and through it to make international purchases," the president said, adding that Petro coins are now a legal substitute to dollars in real estate deals as well as paying for goods such as airline tickets, hotels and the like.
"The National Plan of Criptoactives of Venezuela, will last 10 years. This is going to be the epicenter of the development of a new economy in the country," Maduro said.
According to Venezuelan officials, the Petro coin will "neutralize" the threat of black markets and money mafias across the country.
Such money mafias are widely blamed for a slump in the value of the Venezuelan Bolivar, further exacerbating the nation's economic woes, Foreign Minister Jorge Arreaza told media reporters.
Other initiatives to balance out the South American nation's economy were introduced including the circulation of the Sovereign Bolivar which transpired last month.
According to experts, the governmental objective is to stop the imbalance, a product of the economic war, induced from abroad.
The outstanding offer of the Sovereign Bolivar will be subject to the number of Petros available and would act as a conversion box. At the same time, it will be associated with the value of the price of Venezuelan oil, according to the state news agency AVN.
Each unit of the cryptocurrency will be the equivalent to 3,600 Sovereign Bolivars and will be the reference to fix the value of work, the price of services and consumer goods, as one of the accounting units that will govern the Bolivarian nation.