The average of all 13 polls carried out in August and in the first week of September, saw Hugo Chávez on 51% and Henrique Capriles on 35% giving Chávez an average lead of 16% (See table 1).
Such a lead would translate into an advantage of more than two million votes for Hugo Chávez on October 7th.  
Of these 13 polls surveyed, 11 gave a lead for Hugo Chávez and just two put the main challenger, Henry Capriles Radonski, ahead. (See chart 1 to the right).
In the 11 polls putting Hugo Chávez ahead, all but one gives him a lead of between 13-28%. In contrast, the two polls that put Henry Capriles Radonski ahead gave him leads of just 2% and 4%.
There is also little evidence to support the claims by the opposition that 'undecided voters' could still determine the situation. In the 11 polls where Hugo Chávez is ahead, seven of these give him a lead that is greater than or equal to the number of undecided voters. This means that even in the extremely unlikely scenario that all the undecided voters went to vote and backed Capriles then Hugo Chávez would still win.
Of the four remaining polls, three (two by Datanalisis and one by Hinterlaces) show that Capriles would need to secure the backing of more than 60% of all undecided voters, assuming they all went out to vote. As this won't be the case and there will be some level of abstention, Capriles would need to win over an even higher proportion of undecided voters. The evidence does not show that this is happening with undecided voters. The president of Hinterlaces says that around half of undecided voters will not vote and the other half are splitting evenly between the two main candidates. Datanalisis shows that of those who have not yet decided who to vote for, more prefer Chávez (7.2%) to Capriles (3.2 %).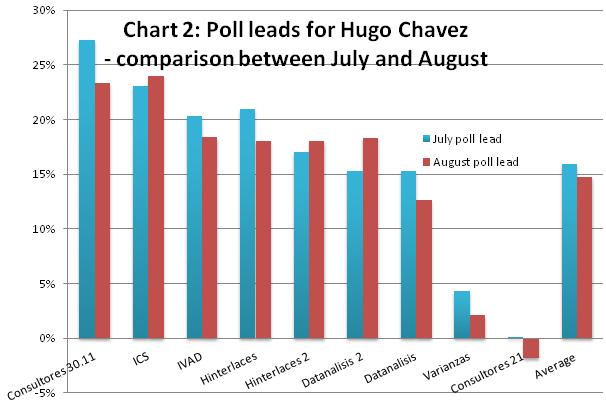 Nor does the recent spin from Henrique Capriles' campaign team claiming that the polls are narrowing give a true picture. Comparing those pollsters that undertook polls published in both July and August, there is no uniform pattern of the lead narrowing (Chart 2). More importantly, even where there has been a slight narrowing - which on average was by just 1% - this is insignificant given Hugo Chávez's huge lead.
Lee Brown who carried out the survey for the Venezuela Solidarity Campaign, said:
"Hugo Chávez clearly has a convincing lead according to the overwhelming majority of pollsters.
The evidence from looking at the full range of polls, rather than cherry picking, does not back up the claims of the campaign of Henrique Capriles Radonski that the race is close or that Capriles is ahead.
Nor is there any evidence that Capriles is making any real inroads into Chávez's lead as they've also claimed.
Hopefully these statements from the right-wing opposition are just the kind of things that get said in the cut and thrust of a campaign.
But the bigger worry is that it's part of an orchestrated claim by the opposition to give the impression of an impending victory and then to claim fraud on 7 October should they lose, as the polls suggest is very likely."
Notes
1)      The VSC analysis was based on the following poll results published in August and the first week of September, exactly one month before the election.
Pollster

Date

Sample date

Sample size

Hugo Chávez

Henrique Capriles Radonski

Undecideds/won't vote/won't say

Chávez's lead in August/September poll

Chávez's lead in July poll

ICS

07-Sep

10-17 August

2,200

57%

33%

10%

24%

23.1

Hinterlaces (2)

07-Sep

14-24 August

1,500

50%

32%

18%

18%

17

Datanalisis (2)

06-Sep

27 Aug -1 sep

1000

45%

26%

29%

18%

15.3

IVAD

02-Sep

17-27 August

1200

51%

32%

17%

18%

20.3

Consultores 30.11 (2)

28-Aug

18-21 August

3200

57%

34%

9%

23%

27.3

Consultores 21

28-Aug

1-14 August

1000

46%

48%

6%

-2%

0.1

Datanalisis

20-Aug

July 16- Aug 9

1,288

47%

34%

19%

13%

15.3

CMIDE 50.1

20-Aug

6-14 august

1300

59%

31%

10%

28%

N/A

Predicmática

20-Aug

30 July-10 August

1600

44%

48%

8%

-4%

N/A

Hinterlaces

17-Aug

28 July - 5 Aug

1500

48%

30%

22%

18%

21

Consultores 30.11 (1)

10-Aug

4-7 august

3500

57%

33%

10%

24%

N/A

GIS XXI

09-Aug

26 July-2 Aug

2500

56%

29%

15%

27%

N/A

Varianzas

04-Aug

2-15 August

2000

49%

47%

4%

2%

4.3

Average

51%

35%

14%

16%
2)      Where a company undertakes more than one poll in a month, any comparison is with the equivalent poll of the previous month.